Description
The LED aluminum profile SVETOCH LINE 90 combines elegance and performance. It is the ideal LED indoor solution for offices, shops, factories and warehouses.
The parabolic shape of the reflector effectively directs and focuses the light at 90 degrees in the transverse axis. The large depth of the LED module in conjunction with a diffused protective screen significantly reduces the glare effect and allows a bright and pleasantly soft light. The elegant timeless design fits perfectly for use in offices and shopping malls. Whether suspended, mounted on the pipe, wall or ceiling mount, all mounting options are possible.
The aluminum housing of the profile serves as an efficient heat sink for your long-life LED lights. The heat dissipation of 130 watts per 1 meter (2.456 kilograms) significantly extends the life of the luminaire and allows the installation of powerful LED modules.
ADVANTAGES
maximum heat dissipation

effective light distribution

greatly reduced glare effect

easy installation of the LED modules

quick and easy installation

many ways and possibilities for attachment

Protection class up to IP67 possible

exceptionally stylish design
TECHNICAL ADVICES
Profile SVETOCH LINE 90 – designed for 1 mm thick and maximum 25.4 mm wide LED modules, as well as 2mm high boards with a maximum width of 24.4 mm. The solid connection of the module to the profile surface effectively dissipates the heat of the LEDs. This significantly extends the life of the LED modules and drivers. Please note the selection of variants in different lengths.
This profile offers sufficient space for the use of multiple LED drivers. By sealing the profile, the drivers and modules are additionally protected up to IP67. So drivers with a lower protection class can be installed, which reduces the acquisition costs enormously. In this profile you can use the most common drivers. As a complete solution for SVETOCH LINE 90 we recommend the driversOSRAM LED DRIVERS OSRAM-OT FIT 50/220-240/350 D L (up to 350 mA, 50W) or LED Driver OT FIT 120/240/750 D LT2 L (up 700MA, 120W).
Profile end caps SVETOCH LINE 90 are made of impact-resistant, light-resistant ABS plastic. The material is resistant to UV radiation. The functional design allows the installation of PG7 cable entries, as well as a pressure compensation valve (for outdoor), which prevents the formation of condensation moisture.
We recommend a protective screen of 1.5-2 mm matt diffused monolithic polycarbonate with a light transmittance of approx. 90% for the interior lighting. Sealing the shield and end caps is reliable and easy. Under "Variants" you can directly select appropriately sized protective screens.
TECHNICAL SPECIFICATIONS
| | |
| --- | --- |
| Maximum length in mm | 3000 |
| Width in mm | 87 |
| Height in mm | 89,9 |
| Weight per meter in kg | 2,456 |
| Outer circumference in mm | 522,7 |
| Recommended module power per 1 m | Up to 130 W |
| Recommended module power per 1 kg | 53 W |
| Material | EN AW-6060, AlMgSi0,5 |
| Oxlexified protection | Colorless |
| Developer | SVETOCH |
| Datasheet | LINE 90 |
ASSEMBLY OPTIONS
With the SVETOCH CONSOLE MINI it is possible to mount luminaires on a pipe.
Can be combined with SVETOCH WALL 360 for fixing to wall and ceiling.
Adjacent to ceiling and wall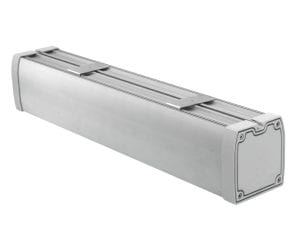 suspended.