Description
Highest and lowest application heights are possible. LED aluminum profile SVETOCH STRADA was specially developed for wide LED modules and waterproof optics. The installation area is 91 mm wide and offers enough space for wide LED modules, optics (lenses). With the LED profile SVETOCH STRADA an emission angle of up to 180 degrees can be achieved.
The ideal solution for streets, public spaces, warehouses, manufacturing facilities and other facilities that require long-lasting, efficient and cost-effective lighting.
The heat dissipation of 200 watts per 1 meter (4.6 kilograms) significantly extends the life of the luminaire and allows the installation of powerful LED modules in a small area.
ADVANTAGES

Heat dissipation up to 200 watts / meter
easy installation of the LED modules and optics
quick and easy installation of the luminaire
many mounting options
Protection class up to IP67 possible
TECHNICAL ADVICES

Because the module is firmly connected to the profile surface, the heat of the LEDs is efficiently dissipated. This significantly extends the life of the LED modules and drivers. We recommend making holes for LED modules and optics with a CNC machine (we offer this service on request). The luminaire can be reliably and easily sealed to IP67.
This profile offers sufficient space for the use of multiple LED drivers. By sealing the profile, the drivers are additionally protected up to IP67. So drivers with a lower protection class can be installed, which reduces the acquisition costs enormously. In this profile you can use the most common drivers.
Profile end caps STRADA are made of impact-resistant, light-resistant ABS plastic. The material is UV resistant. Sealing is done by asquare silicone cord of 3.5 mm. The functional design for the installation of a pressure compensation valve prevents the formation of condensation moisture.
TECHNICAL SPECIFICATIONS

| | |
| --- | --- |
| Length in mm | 997 |
| Width in mm | 124 |
| Height in mm | 54,6 |
| Weight per meter in kg | 4,614 |
| Outer circumference in mm | 1344,1 |
| Recommended module power per 1 m | up to 200 W |
| Recommended module power per 1 kg | 44 W |
| Material | EN AW-6060, AlMgSi0,5 |
| Oxlexified protection | Colorless |
| Developer | SVETOCH |
| Datasheet | SVETOCH STRADA |
ASSEMBLY OPTIONS
There are several very simple, fast and safe attachment options of this profile. If you don't need any other options such as pipe fastening or adjustable angles, you can attach the profile to a rope, wall or ceiling with an M6 threadnutor M6 thread screw (and ring screw). For this purpose, only an M6 nut has to be inserted into the guide rail with a suitable counter screw or a screw with a matching head into the middle guide rail at the top of the profile. You will find the materials required for this in our shop system.
We are also happy to offer professional modular or functional fastening options:
With a double console fixing SVETOCH CONSOLE DUO it is possible to mount luminaires from two profiles for more power.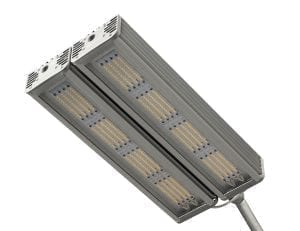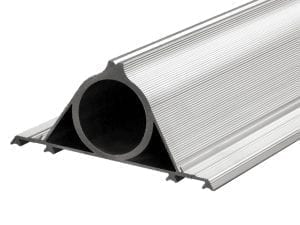 With theSVETOCH CONSOLE MINI it is possible to mount luminaires on a pipe.
Can be combined with SVETOCH WALL 360 for wall and ceiling fastening.
suspended