Description
SVETOCH QUADRO is the all-rounder among our LED aluminum profiles. The special development and adaptation to Florence lenses by LEDiL enables the bundling, scattering and directing of light in all directions. With this LED aluminum profile, you design compact high-performance LED lights for every application in industrial lighting. High-performance and efficient LED lighting in commercial buildings, halls, parking lots, streets and sidewalks, in parking garages, workshops or as a machine light. Whether you are a luminaire manufacturer or lighting designer, this profile can be used in industry and municipalities with our LED high-performance heat sink. The installation is simple and fast. LED strips and modules can be easily mounted in the custom areas.
ADVANTAGES
maximum heat dissipation
quick and easy installation of the LED modules and optics
Bundling, spreading and directing light with LEDiL secondary optics
many types and possibilities of attachment
Protection class up to IP67 possible
slim and functional design
timeless
TECHNICAL ADVICES
An LED standard strip / module with a width of up to 24.4 mm can be used as the LED illuminant. For use with LEDiL Florence optics we recommend our LED module LED150 2835. Ideal for use without optics are LED48 2835 and LED96 2835 modules.. Our linear LED strips are equipped with brand diodes of the manufacturer Samsung of the latest generation. The solid connection of the module to the profile surface effectively dissipates the heat of the LEDs. This significantly extends the life of the LED modules and drivers. When choosing the most suitable variant, please note that narrow LED strips must be screwed tight. For this we offer pre-drilled LED aluminum profiles.
The heat output is 150 watts per 1 meter (2.75 kg), which significantly extends the life of the luminaire. The installation of a pressure compensation valve prevents the formation of condensation. The heat output is 150 watts per 1 meter (2.75 kg), which significantly extends the life of the luminaire. The luminaire can also be suspended or attached to the wall with SVETOCH WALL 360.
Profile end caps QUADRO are made of impact-resistant, light-resistant ABS plastic. The seal is made by a square silicone cord 3.5 mm on the end cap.
This profile offers sufficient space for the use of multiple LED drivers. As a complete solution for SVETOCH LINE 90 we recommend the drivers OSRAM LED Driver OSRAM -OT FIT 50 / 220-240 / 350 DL (up to 350 mA, 50W) or LED DRIVER OSRAM OT FIT 120 / 220-240 / 750 D LT2 L ( up to 700mA, 120W). By sealing the profile, the drivers and modules are additionally protected up to IP67. This way you can install cheap drivers with a lower protection class, which greatly reduces the initial costs for your industrial lighting.
Protect your modules and lenses with an additional, UV-resistant, impact-resistant polycarbonate protective screen. We recommend a protective screen of 3 mm transparent monolithic polycarbonate for the outside, or matt diffuse with 1.5 mm, with a light transmittance of about 90% for the interior lighting. The sealing of the protective disc reliable and very easy. Under "Variants" you can directly select appropriately sized protective screens.
TECHNICAL SPECIFICATIONS
| | |
| --- | --- |
| Maximum length in mm | 3000 |
| Width in mm | 74,4 |
| Height in mm | 67,8 |
| Weight per meter in kg | 2,759 |
| Outer circumference in mm | 967,1 |
| Recommended module power per 1 m | up to 150 W without glass, 130 W with glass |
| Recommended module power per 1 kg | 54 W |
| Material | EN AW-6060, AlMgSi0,5 |
| Oxlexified protection | Colorless |
| Developer | SVETOCH |
| Datasheet (PDF) | SVETOCH QUADRO |
ASSEMBLY OPTIONS
On the pipe with SVETOCH CONSOLE MINI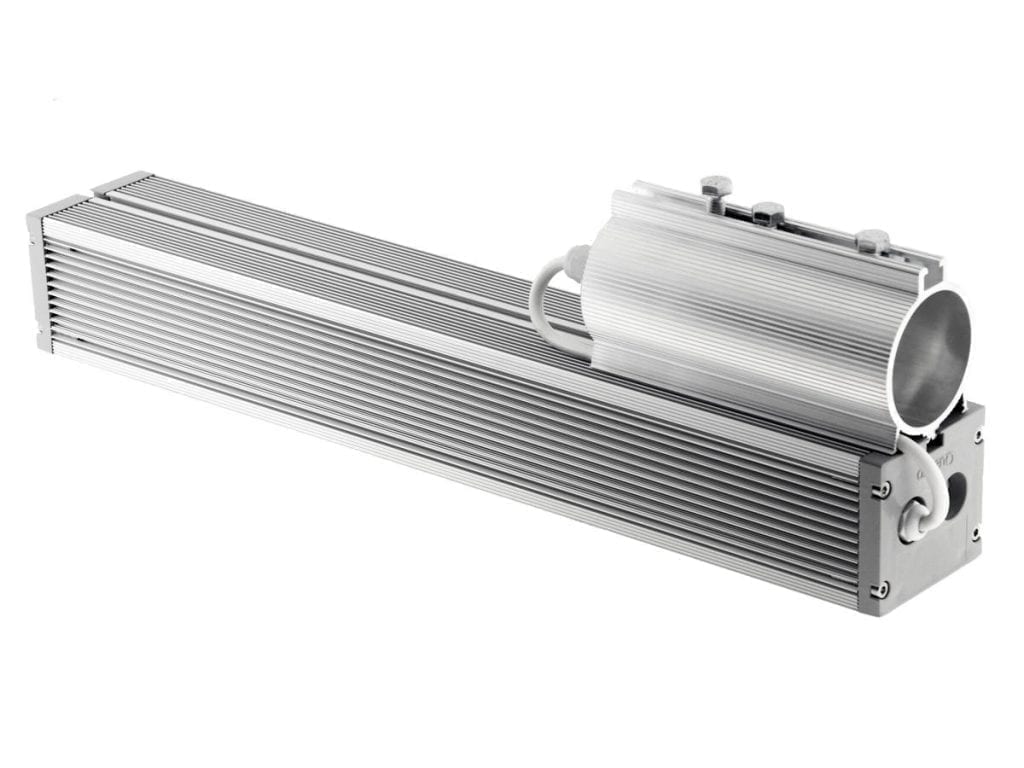 On the wall or ceiling with SVETOCH WALL 360,
or suspended on a wire rope.