Description
SVETOCH UNIVERSE is a true all-rounder as LED aluminum profile. This aluminum profile can accommodate up to 4 linear LED strips. Inside, there is enough space for every luminaire manufacturer for the most common LED drivers and even additional guides for control boards, for example. Compactness, elegant appearance and high heat dissipation as a passive heat sink convince with easy installation. The LED aluminum profile SVETOCH UNIVERSE is designed for the production of linear LED luminaires in industrial lighting. Luminaires based on this profile are often used in commercial lighting, hall lighting, workshop lighting, warehouse lighting, in shops and stationary workstations as a workplace lamp. Should at high installation height, such as Street lighting and parking lighting, more light bundling may be desired to illuminate certain areas, we recommend SVETOCH STRADA or SVETOCH INDUSTRY.
ADVANTAGES
high heat dissipation
Accommodates up to four parallel LED strips
various drivers possible
Guidance for additional control boards inside
Easy installation
many mounting options
Protection class up to IP67 possible
classic design
TECHNICAL ADVICES
SVETOCH UNIVERSE allows the use of linear LED modules up to 12.5 mm wide. The specially developed LED module routing makes them easy to use. At the same time a firm connection to the profile is achieved by pressing the guide. This way, heat is better dissipated and the lifetime of the LED modules is extended many times over. We recommend SVETOCH aluminum LED strip LED48 3528. Unsere LED Streifen werden immer mit Markendioden Hersteller Samsung der neuesten Generation bestückt.
Profile end caps UNIVERSE are made of impact-resistant ABS plastic. The material is resistant to UV radiation. The seal is made by a square silicone cord with 3.5 mm thickness.
This aluminum profile for LED lighting provides ample space for various LED drivers with up to 55 x 30.6 mm and is a true high-performance LED heat sink. As a complete solution for SVETOCH UNIVERSE we recommend e.g. OSRAM LED DRIVER OT FIT 120 / 220-240 / 750 D LT2 L. By sealing the profile, they and the LED modules could additionally be protected up to IP67. So even drivers with a lower degree of protection can be installed This reduces the purchase costs enormously. The installation of a pressure compensation valveprevents the formation of condensation.
We recommend a protective glass of 3 mm transparent monolithic polycarbonate for the outside, or matt diffused protective glass of 1.5 mm with a light transmittance of about 90% for the interior lighting. Sealing the shield and end caps is reliable and easy. Under "Variants" you can directly select appropriately sized protective screens.
TECHNICAL SPECIFICATIONS
| | |
| --- | --- |
| Maximum length in mm | 3000 |
| Width in mm | 105,4 |
| Height in mm | 56 |
| Weight per meter in kg | 3,368 |
| Outer circumference in mm | 1149 |
| Recommended module power per 1 m | Up to 150 W |
| Recommended module power per 1 kg | 44 W |
| Material | EN AW-6060, AlMgSi0,5 |
| Oxlexified protection | Colorless |
| Developer | SVETOCH |
| Datasheet | SVETOCH UNIVERSE |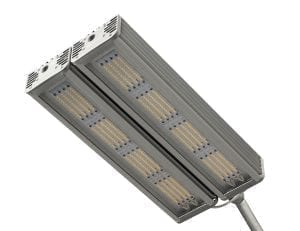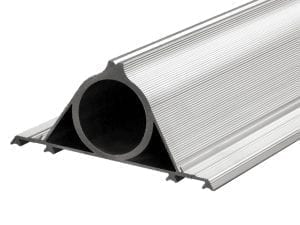 With a double console fixing SVETOCH CONSOLE DUO it is possible to mount luminaires from two profiles for more power.