Description
The LED aluminum profile SVETOCH NEW is designed for fast self-assembly of high-performance LED lights. The profile is based on our best-selling aluminum profile SVETOCH. The area of the outer circumference has been increased by 15% and the mass of the profile has been reduced. The large area allows the use of common LED modules and optics. More space inside offers the installation possibility of several LED drivers.
The double-sealed protective screen makes the LED profile a quality solution for industrial and street lighting. Based on this profile, economical, reliable and powerful luminaires are manufactured for industrial plants, supermarkets, garages, parking lots and warehouses. The heat dissipation is 270 watts per 1 m (6.99 kg). The lifetime of the LED modules in connection with this profile is 20-30 years. This is achieved by brand LEDs, larger cooling surface and fixed connection of the module to the profile surface.
ADVANTAGES
wide installation surface for LED modules up to 154 mm wide
Installation of several boards inside possible
a lot of space for drivers
easy installation of the LED modules and the protective screen
Maximum heat dissipation significantly extends the life of the LED
fast installation of the LED modules and optics
can be combined with many fasteners
Protection class up to IP67
modern design
TECHNICAL ADVICES
SVETOCH NEW profiles are made of anodised aluminum. Wide installation surface of the profile allows the use of LED modules up to 154 mm wide. We recommend LED modules with waterproof optics without additional protective screen. As a budget solution often our SVETOCH LED modules LED48 3528 are used in conjunction with a protective screen without optics. Our LED modules and LED strips are equipped with brand diodes from the manufacturer Samsung last generation.
For this aluminum profile we offer profile end caps made of impact-resistant ABS plastic and silumin (aluminum). The material is resistant to UV radiation. The seal is made by a square silicone cord with 3.5 mm thickness. The installation of a pressure compensation valve prevents the formation of condensation.
This profile offers sufficient space for the use of multiple LED drivers. By sealing the profile, the drivers and modules can also be protected up to IP67. So drivers with a lower protection class can be installed, which reduces the acquisition costs enormously.
We recommend a protective screen made of 3 mm transparent monolithic polycarbonate for exterior or matt diffused protective glass with 1.5 mm and a light transmission of approx. 90% for the interior lighting. Sealing the shield and end caps is reliable and easy. When selecting the "Variants", custom-fit protective screens can also be ordered directly.
TECHNICAL SPECIFICATIONS
| | |
| --- | --- |
| Maximum length in mm | 247 |
| Width in mm | 194 |
| Height in mm | 70,6 |
| Weight per meter in kg | 6,997 |
| Outer circumference in mm | 1693 |
| Recommended module power per 1 m | up to 270 W |
| Recommended module power per 1 kg | 38 W |
| Material | EN AW-6060, AlMgSi0,5 |
| Oxlexified protection | Colorless |
| Developer | SVETOCH |
| Datasheet (PDF) | SVETOCH NEW |
ASSEMBLY OPTIONS
With fixings SVETOCH CONSOLE or SVETOCH CONSOLE – MEDIUM it is possible to mount luminaires to a pipe.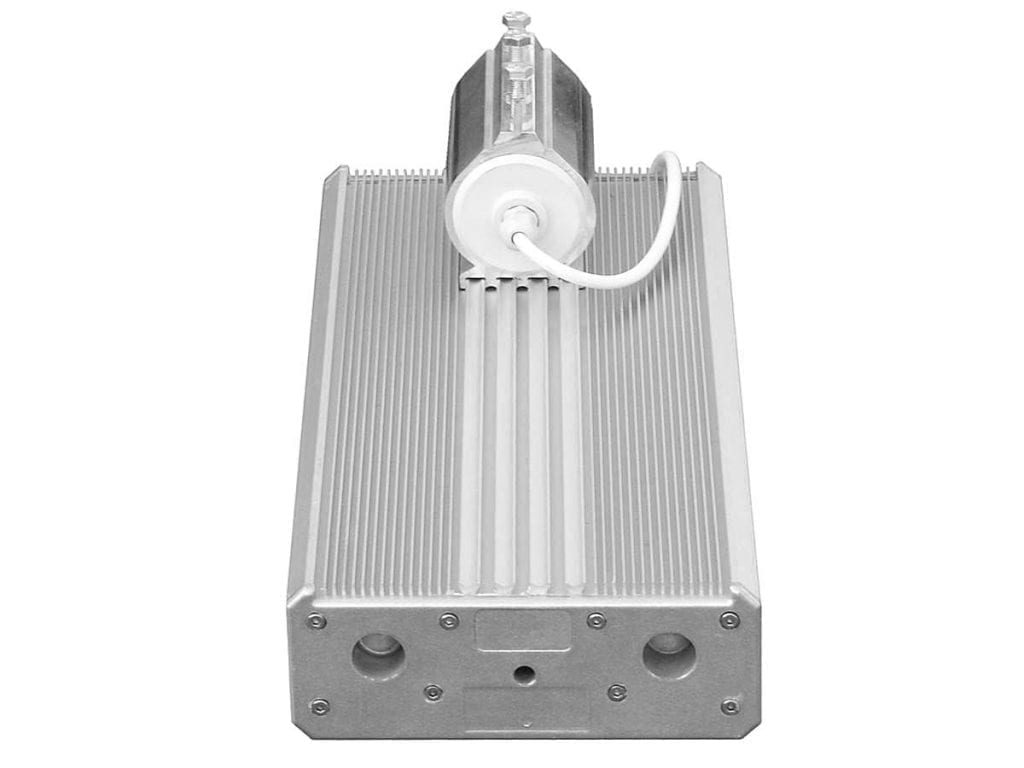 Can be combined with SVETOCH WALL 360 for fixing to wall and ceiling.
suspended