Description
This profile is designed for outdoor use. Unprotected LED modules and optics are protected by an additionally sealed, impact-resistant protective polycarbonate protector excellent against all weather conditions. Luminaires made of aluminum profile SVETOCH INDUSTRY can be used in extreme locations.
Often used in industrial warehouses, factory premises, streets, public spaces, warehouses, shops and other facilities that require highly protected and focused lighting.
The lifetime of the LED modules in connection with this profile is 20-30 years. This is achieved by a larger surface area and firm connection of the module to the profile surface.
The heat dissipation of 200 watts per 1 meter (4.8 Kg) significantly extends the life of the lamp. This allows the installation of powerful LED modules and a mounting of compact and powerful lights.
ADVANTAGES

high self-protection through optics and additional protective screen
very good heat dissipation
easy installation of LED modules and optics
fast and easy installation
can be combined with many fasteners
Protection class up to IP67
universally applicable
TECHNICAL ADVICES
The maximum spreading angle with SVETOCH INDUSTRY is 135 degrees. For broader beam angles than 135 degrees, we recommend our LED aluminum profile SVETOCH STRADA.
The LED aluminum profile SVETOCH INDUSTRY has been specially developed for LED modules in conjunction with secondary optics. The wide surface of 72 mm allows use of almost all common LED modules and optics. The luminaire can be reliably and easily sealed to IP67.
The fixed connection of the LED module to the profile surface effectively dissipates the heat from LEDs. This significantly extends the life of the LED modules and drivers. We recommend making holes for LED modules and optics with a CNC machine (we offer this service on request). The luminaire can be reliably and easily sealed to IP67.
This profile offers sufficient space for the use of multiple LED drivers. By sealing the profile, the drivers and modules are additionally protected up to IP67. So drivers with a lower protection class can be installed, which reduces the acquisition costs enormously.
Profile end caps INDUSTRY are made of impact-resistant, light-resistant ABS plastic. The material is resistant to UV radiation. The end caps are sealed by a 3.5 mm square silicone cord. The functional design for the installation of a pressure compensation valveprevents the formation of condensation moisture. Sealing the shield and end caps is reliable and easy. On "Variants", tailor-made protective windows can be ordered directly.
TECHNICAL DATA – LED aluminum profile SVETOCH INDUSTRY
| | |
| --- | --- |
| Length in mm | 247 |
| Width in mm | 124 |
| Height in mm | 66,8 |
| Weight per meter in kg | 4,814 |
| Outer circumference in mm | 1502,4 |
| Recommended module power per 1 m | up to 200 W |
| Recommended module power per 1 kg | 42 W |
| Material | EN AW-6060, AlMgSi0,5 |
| Oxlexified protection | Colorless |
| Developer | SVETOCH |
| Datasheet | SVETOCH INDUSTRY |
ASSEMBLY OPTIONS
With a double console fixingSVETOCH CONSOLE DUO it is possible to mount luminaires from two profiles for more power.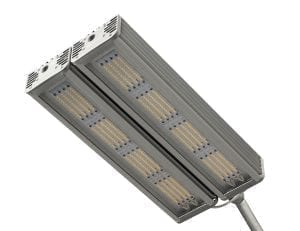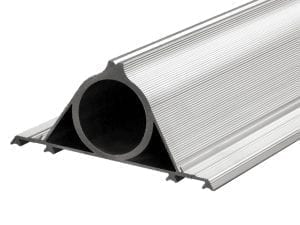 With the SVETOCH CONSOLE MINI it is possible to mount luminaires on a pipe.
Can be combined with SVETOCH WALL 360 for fixing to wall and ceiling.
suspended
combined